Leadership, Integrity, Quality & Service.
In 1948, Joe and Mike Procacci founded Procacci Brothers Sales Corporation in the cellar of their parents' home. They never dreamed the company would grow to the size and stature it is today. Their philosophy was to tirelessly work to provide customers with the best product at the best price.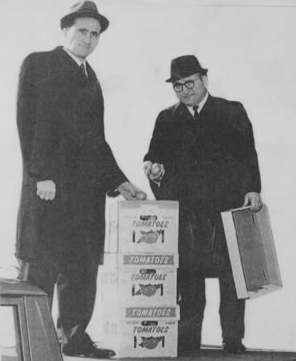 Family, leadership, and integrity, together with loyalty, led to steady growth. Dedicated employees embraced this philosophy of hard work, honesty, and proudly providing customer service. As a result, faithful customers have long benefited from the dedication to quality of Procacci Brothers. Strict adherence to our core values has proved to be instrumental to the continued success of our employees, suppliers, and customers.
As one of the largest wholesale produce distributors in North America, Procacci Brothers works to grow and strengthen the business of our customers. Procacci Brothers operates 24 hours a day, seven days a week in our state-of-the-art facilities in South Philadelphia. Our seven warehouses are located at one of the East Coast's busiest ports on the Delaware River. Receiving the freshest produce locally, domestically, and from around the world, we remain committed to building strong and unique programs for retail supermarkets, club stores, and the food service industry.
Procacci Brothers leads the way with the freshest, premium quality fruits and vegetables available. Our customers rely on us to bring them what they need, when they need it.
Evolving and growing to meet the changing needs of our customers is what makes Procacci Brothers the undisputed "Leader in the Field."
Contact Us
Address
3333 S Front St.
Philadelphia, PA 19148